Triple winner of the discipline's flagship event in France, James Reveley managed the feat of chaining his three Grand Steeplechase of Paris consecutively, a performance that alone John Daumasrecord holder of success with 5 victories (1959/61/64/65/66), had achieved before him.
Favorite for his second coronation, So French (2016,2017) was not for his first attempt on the demanding course of 6000 meters of steeplechase in Paris. By swapping the casque of fire "Maggie" Bryant for that of the Papot family, in 2018, the English jockey followed a logical reasoning which proved to be profitable. Discovering the distance, On The Go beat on the finish opponents better equipped than him on the course and offered his jockey a "hat trick" in the French Gold Cup.
Gex is the pride of its breeders and co-owners Jacques Cyprès and his wife surrounding Emmanuel Clayeux here.
This year James Reveley will be associated with Gex, a "novice" on the steeple who will discover the distance and the big ones opposite. A challenge worthy of this phlegmatic and sympathetic British double gold whip on our soil.
An Englishman on the GSCP list, what impact did it have in your country of origin?
"The first Grand Steeple-Chase with So French, for me it was an accomplishment! I had invested a lot beforehand by working with Guillaume Macaire. It all paid off. In the English press it did not have the same echo. , races in France rarely make the headlines, there have been a few articles but that's all. On the other hand, I have received many congratulatory messages from personalities that I do not usually like Tony McCoy and other big names in the sport. But at the media level there was not much enthusiasm."
What memory or anecdote comes to mind first, when you recall your successes in the GSCP? ?
"The day of my first big steeplechase it had rained a lot and the track was very heavy and I love going up to Auteuil in such conditions, when the track is heavy. You can say that the weather was on our side that day. Conversely for the second, the weather was very nice in Auteuil and So French was magnificent I had never seen it so beautiful, it was a painting For the third there was not much at the end and I remember this sentence from Guillaume Macaire who said "it's thanks to the big head of On The Go that we won", so I won thanks to his unsightly physique…"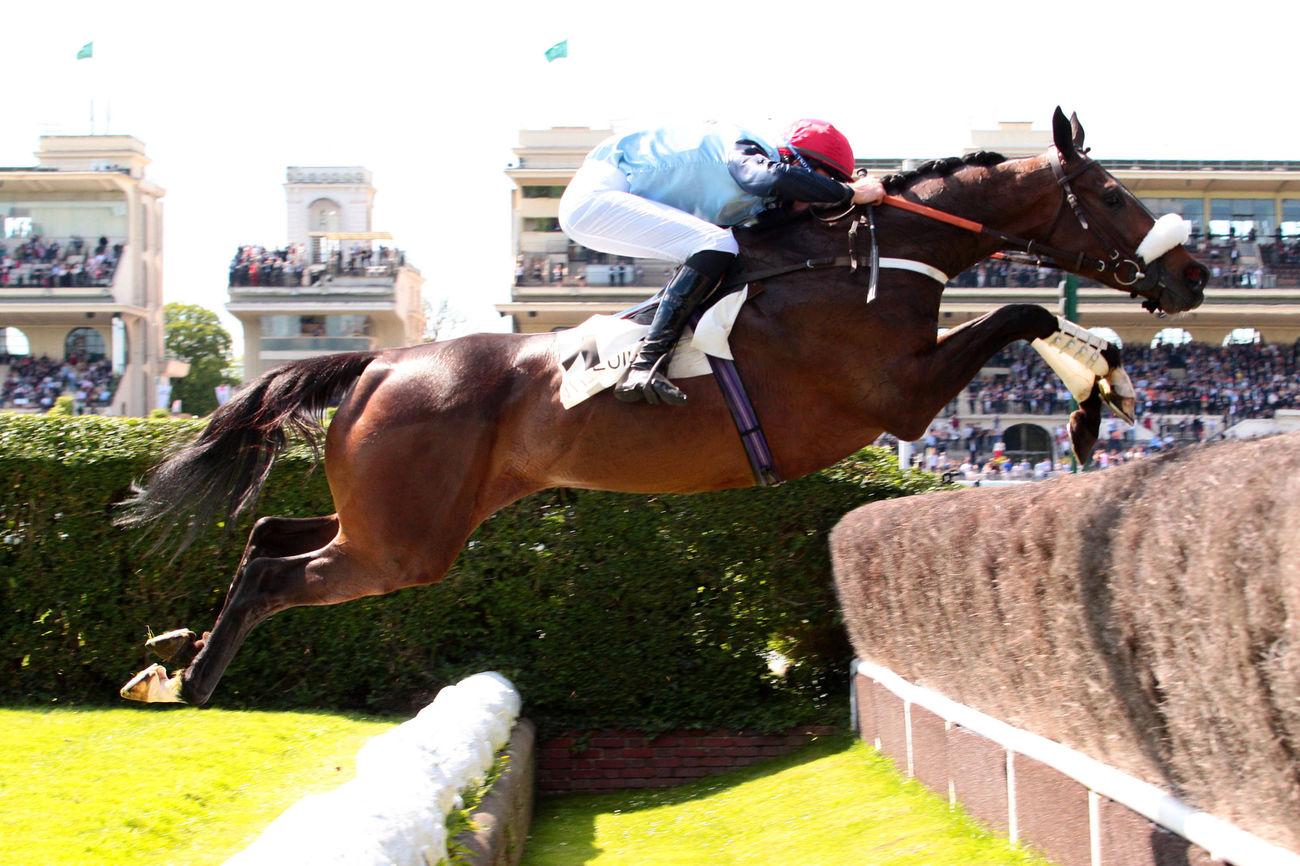 So French in 2017 during his second coronation in the GSCP
Was your second coronation with So French the one where you had the most pressure? ?
"I will say above all that for the first one, in 2016, I had no pressure. So French was coming out of his 4 year old year and he was one of the best of his generation, but there were horses within the stable of Guillaume Macaire who seemed more confirmed and who were favourites…. I remember that the objective I had set myself was to go around. In 2017 he was the defending champion and the horse to beat so yes I I had more weight on my shoulders."
With Gex, who has only run three times in a steeplechase, it's a bit of a dive into the unknown. How do you feel this year?
"I have ridden him in almost all his races and for me he has all the qualities to be a steeplechase horse. He is rather easy to ride, for me he will go the distance, he does not get tired in a course, he is a good jumper. So yes he will discover the rail-ditch but on what he showed at Auteuil it is in his capacities. It is true that he lacks a job in steeplechase but he can compensate for it by all his other qualities, it will erase his lack of experience."
From a podium at the finish of the Grande Course de Haies d'Auteuil in 2021, at the start of the Grand Steeple-Chase de Paris, when with Emmanuel Clayeux did you say to yourself "Let's go!"?
"At the end of the year when he won his first steeplechase, the Prix Métaéro, it was a possibility. This year it became a reality. won the Prix de Saumur very easily, it was not the planned route but I tell myself that it is not so bad. There he had 6 weeks to calmly prepare for the right one."
Many unknowns surround Gex's candidacy, what do you think is its main asset? ?
His behavior ! He is a horse who is well in his head. In the round he is never stressed he is almost asleep, once on the track he knows what he has to do. Well in his head, his behavior is his main asset.
A favorite for the GSCP?
Salt Jem! Even if he was beaten last time, he is a horse that has everything going for it. It is the logical favorite.