How are you?
I am delighted to be back in France and to have the privilege of riding a little more now. I have passed the post in the lead for 40 years and I always show great success. The season started slowly but it is starting to take shape. I had a little less support at the start of the year following a misunderstanding and some confusion regarding my coaching license obtained this winter. Some people imagined that I was going to train immediately which is not the case. I resume the course of my career and continue to live from my profession which is above all a passion and a hobby for me.
What is the best horse you have ridden in your career?
I had the chance to ride a lot of good horses with different profiles. On the mile without a doubt Ashkalani for Prince Aga Khan. It was a real Formula 1 car for me. It had blistering acceleration and could go from last to first in just four strides. Together we won the Poule d'Essai des Poulains (1996 edition).
A horse that marked you that you would have liked to ride?
The undefeated frankel. He was a horse of enormous intrinsic quality, he possessed a great deal of natural speed and drive. It would have been difficult for me to refuse to ride such a horse (laughs).
The greatest jockey you have seen evolve during your career?
By far Lester Pigott ( He has won 4,493 races during his career, including nine Epsom Derbys and 3 Arc de Triomphe prizes), it's a legend. He had this feeling and the instinct of great champions. What he did in England is exceptional. In French jockeys I would say Freddy Head (4 Prizes of the Arch of Triumph, 4 Prix du Jockey Club, 4 Prix de Diane in particular)he is an intelligent man, well posed on horseback who was a model for me.
Freddy Head, the former crack jockey at the 4 Prix de l'Arc de Triomphe who became a trainer; a reference for Gérald Mosse
The best meeting of your career?
the Prince Aga Khan is an exceptional man and I had the honor and privilege of working with him. He is an exciting man who commands respect.
A trainer who impressed you?
Alain de Royer Dupre. He is a true Swiss watchmaker and an extraordinary developer. He is a person with great humanity, constant in his mood in victories as in defeats. It was a pure pleasure to work with him all these years.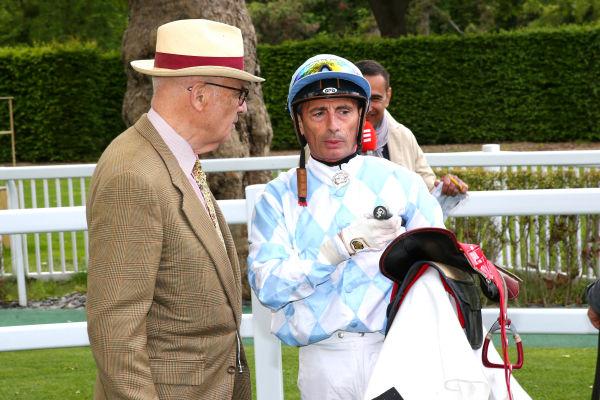 In discussion with Alain de Royer Dupré, for whom Gérald Mossé has enormous respect
Your first Group 1 victory?
It's a very good question (laughs). I would say Double bed in the Aleas Handicap Turf Cup in Miami in the United States. He is an exceptional horse that was dear to my heart. We have won a number of great races together. He then produced Jim And Tonic with whom I toured the world and had a string of victories.
A race that is missing from your record that you would like to win?
The King Georges which are the equivalent of the French Arc. This is THE race par excellence for pure champions in England.
A Group 1 which was unexpected for you and which you won?
When I compete it's to win! I ride to win! (laughs). Even if I can imagine sometimes that it will be complicated, when I am at the start of a race my only goal remains victory no matter how difficult it is. I give the maximum. I won the Prix du Jockey-Club with Ragmar with a rating of more than 30/1, at the start it wasn't a first chance on paper but it wasn't a big surprise for me, everything went well that day. My best Group 1 anecdote remains the one in Singapore. The race takes place over 1200 m, a competitor falls at the start, the horses scatter, it was a rhythmic and bushy race, we were going well despite the confusion. Mid-straight a horse overtakes me. It was the loose horse, I fight and finally I win except that I didn't know it was a Group 1!
A Group 1 you won where you were sure to win?
American in the Melbourne Cup (Australia). I had complete confidence in my horse, I knew him like the back of my hand, I had just won the Prix Kergolay with him. I had never ridden at Flemington, the jockeys had given me some very important points . Things went well. The horse was 100%, Alain de Royer Dupré had prepared him extremely well. In my eyes this race was written. Luck was with me from start to finish, I initially didn't have to ride the horse due to suspension, the statistics with his rope number were not favorable but I had the lucky number with which I obtained the more wins. The stars aligned that day.
Your greatest pride?
It is to have realized my childhood dream and to continue to live my passion on a daily basis. Since the age of 4 I always told my parents that I wanted to be a jockey. I started climbing before I could even walk. My father was a trainer in the South of France, I think I was "created" to ride horses. Horses are my whole life.
Your biggest regret?
I do not have any. I have never regretted anything in my life. I make mistakes like everyone else, I correct them, I try not to repeat them but I don't attach importance to negative things in my life in general.
An anecdote that you have never told?
For the unusual side I found myself declared in obstacles at Clairefontaine. I had decided to test this discipline. At that time, I had a contract with Jean-Luc Lagardère. I prepare the horse called Duc d'Aubry, calmly and discreetly. It's a François Doumen horse that jumped well in the morning and with which I had a lot of fun. François Boutin, my trainer, calls me and asks me about this declaration of riding…he made it clear to me that I had a choice to make: either the Obstacle, or remain first jockey for Jean-Luc Lagardère and himself. The choice was quick, I didn't go to Clairefontaine!
What do you think of the younger generation of jockeys?
I don't think it's the same job as before. Young people today have unfortunately not had the opportunity to learn and the time to learn. They sometimes find themselves pushed to the highest level without having the experience or the perspective necessary to behave respectfully towards others in the race. The younger generation was educated differently, I don't think we should blame them too much, but the young people who really have talent want to progress and rely on the "elders". Coaches currently don't have much time to train them properly.
How do you see your future as a coach?
For the moment I'm still a jockey but it will be a new career and a new life that will start in a while. I would no longer have the pleasure of being a direct player in the competition, but I think that the preparation will make up for this lack. I think you appreciate more as a coach.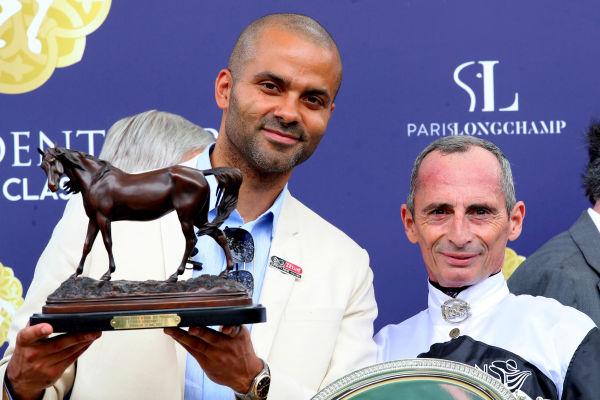 With Tony Parker, Gérald Mossé has just won the Poule d'Essai des Pouliches with Mangoustine on Sunday 15 May.