Hermes Bay winner of the Alain du Breil Prize, and Thelemawinner of the Prix Renaud du Vivier, were two highly anticipated 4-year-olds this year against the old birds. They immediately made an impression, finishing first and second in the Prix Juigné. During the Hypothesis Prize, Hermes Bay disappointed. But above all, Autonomy made it clear that she was not going to leave her place right away. This Saturday, on the occasion of the last preparatory, Hermes Bay has set the record straight, so the cards are reshuffled. The match promises to be sumptuous on D-Day. See you on May 21 for the Big Hurdle Race .
Are you reassured by the victory of Hermès Baie on Saturday in the Léon Rambaud Prize?
It's quite reassuring. We all know that when you don't win, there are always certain questions that arise. The transition from 4 to 5 years is always an important milestone. On the day of his return, we were only beaten by Thélème, so there was no answer to this question. I knew I was going to beat it again and vice versa. Each time, they are never far from each other. In the second race, the performance of Hermès didn't worry me, but that of L'Autonomie… I told myself that she was an extraterrestrial, that she was going to be unbeatable. We have already seen her beaten several times but she made an impression. But here, Hermès proves that you can look her straight in the eye. With yesterday's race, we imagine potentially being able to win Group I.
Never underestimate the opposition. There is now only one incredible mare, but a trio, and it is the one who will be on top on D-Day who will win. It's still more pleasant to leave in a Group I by saying that we have a chance of winning, rather than trying to go around and take a check. So it's not a €2 penalty, but he can win, like being third.
Can you come back to the Prix Juigné and Prix Hypothèse?
When we are beaten, we always look for excuses. For the comeback, you never know where your opponents are. Thélème was perhaps more ready and Hermès Baie is a horse quite within him in the morning, so with a real margin. I'm beaten so we said we have to be less offensive. There was unnecessary questioning. This led us to mount it very wisely the next race. I ridden him a little too "off the course" and the horse doesn't know how to run like that. On horseback you feel things. I knew what I had done well and what not to do again. For this third race, we refocused on the essentials, we gave him a real race. I wasn't going to do everything to be one length behind L'Autonomie during the course either, but you had to be in the game. That's what I had to tell myself. What I failed to do in the second.
To come back to the Prix Hypothèse, I rode it too far, the horse didn't get into the race. Visually, the horse looked overwhelmed. If we take the same race, riding it the same way but without being flattened by Lucas Zuliani and Porto Pollo, I'm second. Porto Pollo is second and I'm next to him on the last turn. We can therefore imagine being optimistic that I am second and being pessimistic fourth. And there, it would not have shocked anyone. As the race picks up speed, I'm flat on my stomach and lose five lengths. The horse is a bit confused and so am I after this incident, so then I'm not hard on my horse. So I waited to be straight and watched the action between the last hurdle and the post, it was very good. So without this incident, I'm one length from Thélème and there it's like the return race. It was therefore necessary to dissect the race, to take this sixth place with tweezers. At this level, do not dream. Even with a very good horse, you can't overcome such a racing fact.
After this Prix Hypothèse, François Nicolle reacted hotly, saying: "we are going to change a lot of things…" Were you afraid for your place on the horse and do you know what things have changed?
I didn't hear François Nicolle's reaction right away. I haven't even spoken to him about it. I have the full confidence of the Papot family. they know how to lose in order to win. We are a team and as long as we grow on defeats, I will have their confidence. I don't work the horse in the morning, he has his own rider, who does a great job and who played a big part in the horse's victory on Saturday. I don't think a lot of things have changed but there was an electric shock for everyone. The job has always been very well done. The horse had arrived in this race as well as for its comeback. I mounted it too off, that's all. Its quality is to be in the fight. He always keeps it under the pedal, and on Saturday I knew how to take advantage of it. I materialized this time but not in the Assumption price.
Is it his strength to be inside him?
The expression "inside him" is pejorative. It is rather a horse at the button, at the command. If we get into race mode on it, he'll get into it too. I heard that L'Autonomie was perhaps less good on Saturday but we were very close to it, over 4300 meters at 50 km/h. Arriving on the penultimate hurdle, the counter showed 58, it was a real race. Hermès Bay can therefore follow all trains, be mounted 1-2, 5-6. It is where it is, without making superfluous effort, without ever contracting. He then has a real faculty of acceleration.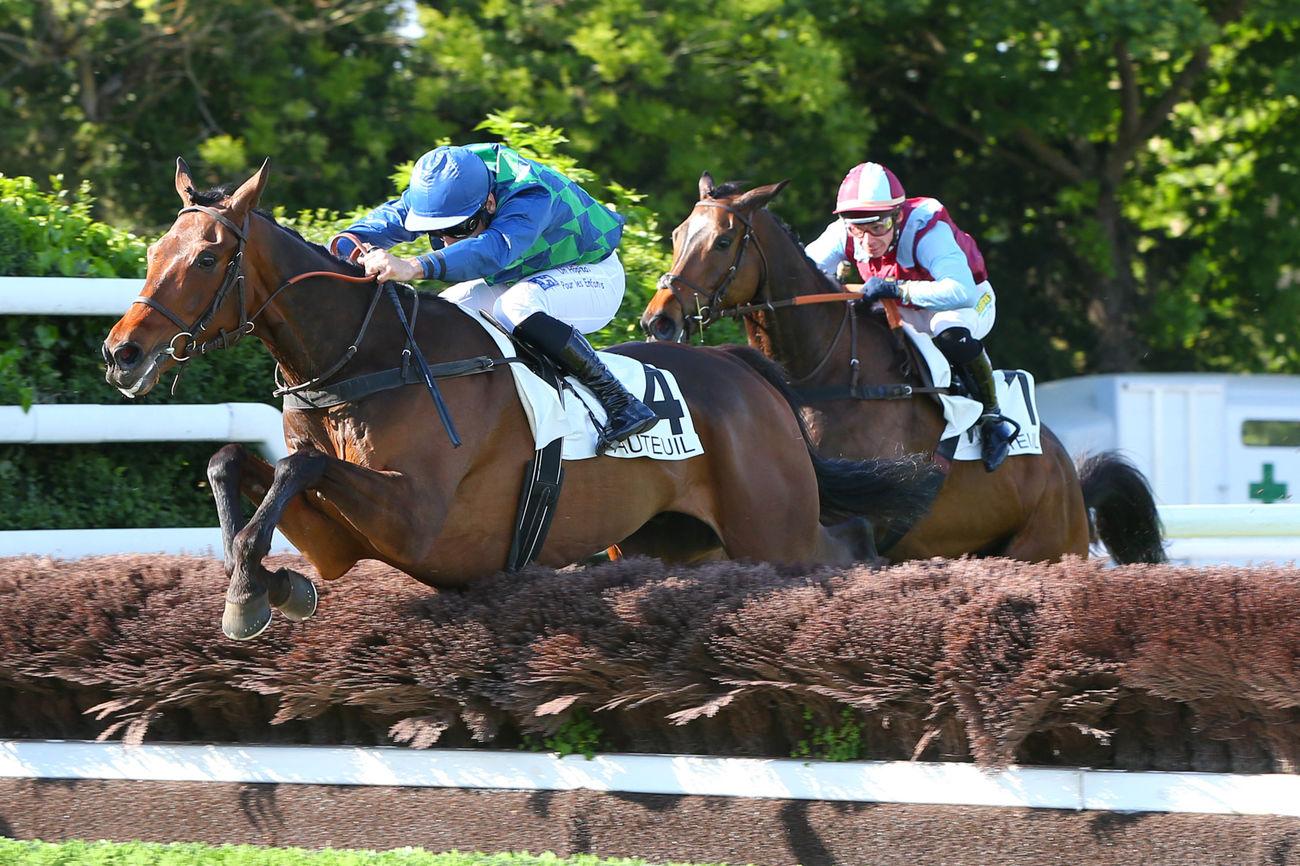 His jump from the last hurdle is incredible…
Looking back at the pictures, wow… It's a real chance to ride horses like that. When you arrive with that much gas, the obstacles always come well. We jockeys get into trouble when the horses run out of resources. With a little less gas, 15 meters from the hurdle, we have to "tweak", change something, the balance, our speed,… But with the resources I had at that time, I feel that it comes well because the horse is lucid and arrives with action. We arrive by advancing, he thinks about what he is going to do. From afar, he calculated himself and I had nothing more to do. It was perfect.